Keep Your Ford Vehicle Running Smoothly with Regular Service in Easton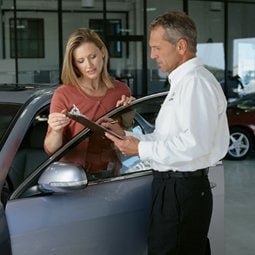 Scheduling regular service is the best way to keep your Ford vehicle running smoothly for years to come. Fortunately, the pros here at Hertrich Ford of Easton know exactly how to care for your car and keep it in excellent shape so that you can enjoy more miles of adventure and fewer big service issues. Our service center is outfitted with all the tools and equipment our pro technicians need to tackle your car's routine maintenance needs, and we're ready to help you whip your car into shape.
Service your Ford at Hertrich Ford of Easton
From smaller maintenance tasks like oil changes and inspections to large repairs like brakes, transmission, exhaust (and more), drivers can count on the Hertrich Ford of Easton service team. From routine service on your Ford vehicle to service on other brands, Easton drivers can look to our service team with confidence. Beyond this, Maryland drivers can look to our service team for warranty and recall assistance (depending on your brand and model).
Make an appointment with our Easton Ford service center online today
From our convenient location in Easton, we've served drivers from all over Maryland, and we'd love for you to be one of them. Feel free to get in touch with us over the phone, or schedule a service appointment online today to get the care your car needs at a time that best suits your schedule.